Cuánto cuestan estas castañuelas?
I know that I am not the only person who decided to learn a language during ISO. This is about as far as I got. I am sure it will come in handy if we ever get to travel overseas again. Like many, I set myself some goals to best use this 'gift' of time while in ISO…minus the guilt that I should be doing something else with my time. Learning a language was one. I gardened, I cooked, I read, I started yoga, I re-organised, I exercised, I made cocktails, I drank those cocktails, I took photos. I reconnected and had time to think.
Looking back, as we begin to look forward, I feel a little panic starting to creep in. Have I made the most of this time in ISO? Should I have used my time more proactively? Could I have prepared more for whatever our post-COVID world will look like?
Never waste a good crisis is the mantra that I see repeated across social media platforms.
Work-wise we have been pretty busy. The frenetic pace of running a busy recruitment practice, means that you rarely get the time to pause for thought, pop your head above the parapet and look to where you are headed. With permanent recruitment paused for the moment and temp contracting to cover the most critical of functions only, there has been time to review what does and doesn't work.
As such, we have taken this time to investigate how automation can better support our practice. We are rebuilding and enhancing our tech stack to facilitate a more efficient way forward. With a new cloud-based CRM already embedded pre-COVID, we have been able to integrate each new addition to our tech stack so that it can work seamlessly and enhance our daily functionality. With video quickly becoming our go-to tool for interviews and meetings we have used this time to rethink the way we do everything. We have employed career updater for our temps, a new EDM marketing platform to better connect us to our clients and candidates, installed cloud-based telephony straight out of our computer network, automated our ref checks and joie de vivre (not Spanish), we've started producing webinars.
There has definitely been a shift personally and professionally for many of us. There will be a distinction between our pre and post COVID worlds. This time, has been a gift, to take back control of the things that we can control and rethink how we all move forward.
What have you changed in-order to move forward?
Hasta la proxima vez
Following the success of our first webinar last Wednesday covering off How to Manage Remote Teams, don't miss out on the next in the series scheduled for Wednesday 27th May at 11:00am:
FREE WEBINAR: The Critical Factors to Virtual Onboarding Success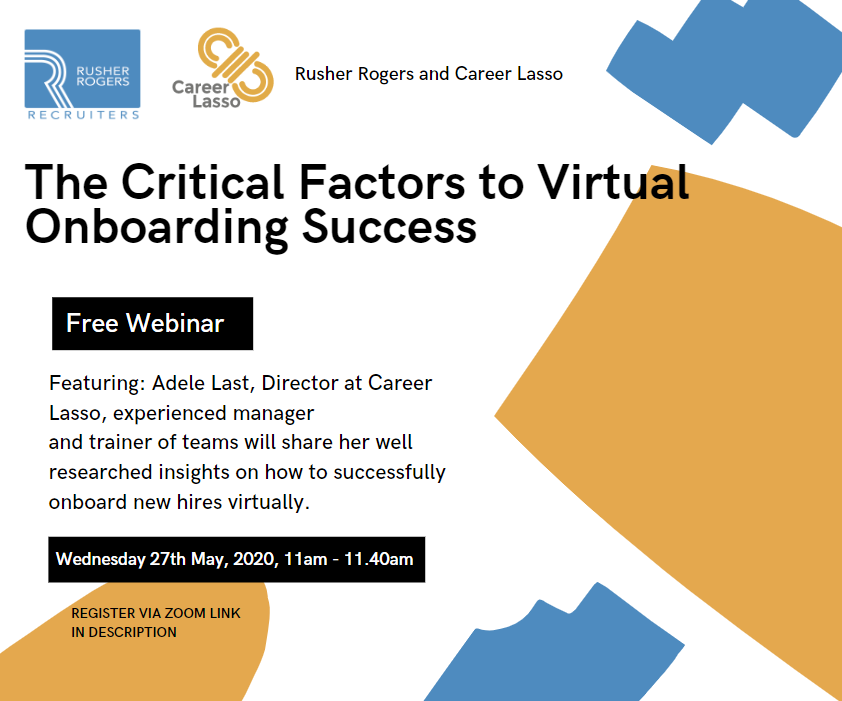 We all know recruitment and business growth has been hindered by the current economic conditions. However now is NOT the time to hold off on recruitment because you don't know how to on-board remotely. Even post Covid19 there are huge benefits to being about the onboard new staff in this way. In this 40-minute presentation learn the critical factors to ensuring virtual onboarding success including:
the basics you need to get it right
the factors that impact success
learn the benefits of on-boarding this way and open up a new world of talent
legal and policy considerations you need to make
business benefits that will help to build a business case
This FREE live webinar will be jam packed with practical take- aways and will also include some case studies from businesses setting doing it right!
Register in advance for this meeting:
https://us02web.zoom.us/meeting/register/tZIoduusqz0iH9UwWPnIF67_CtEOrCKTylK0
STOP PRESS: Congratulations to us!! Rusher Rogers is now officially licensed to provide on-hire temporary professionals.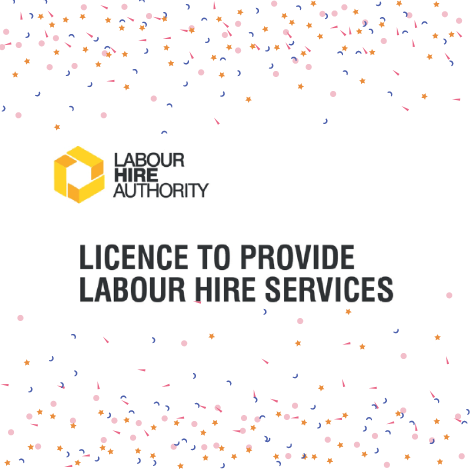 Need Practical Solutions?
A Temporary Workforce
Minimising risk will be top of mind and a temporary workforce solution is a great way to meet an immediate need while minimising long term financial commitment through an extremely volatile and uncertain period. Top of mind for many will be skilled resources in the health sector but also skilled resources in the area of HR, ER and OHS especially for those organisations without the dedicated in-house HR expertise who are trying to navigate their way through a rapidly changing work place environment. RR can assist with this as we have a stable of temp ready, many Work-From-Home ready professionals in this space
Virtual Temporary Professionals
All of a sudden, we are all working remotely. Thank God for cloud-based technology! But don't forget, RR have a virtual workforce of solid all-round Temp Professionals, all of whom can support your business virtually. Our professional temps are equipped, trained and able to work from home to ensure that you have the coverage you need without putting anyone at risk
14-day self-Isolation and no cover?
If you have any staff returning from overseas, they are obliged to self-isolate for 14 days. We have the temp professionals to cover this gap. Carefully following all recommended hygiene protocols our temp professionals will seamlessly fill that unforeseen need
Work from Home ready?
As the business world prepares their remote workforce, this may change the way we work irreversibly. All of a sudden what was a privilege, something earned, the right and trust to work from home, will become the norm for most of us during the next couple of weeks. Who knew??
We can help you coordinate getting your employees up to speed quickly with easy access online OHS assessment to ensure that your people are completely compliant and prepared to work remotely.
Unbundled services and tailored solutions
We can provide specific recruitment support services on an as needed basis. For example, everything from initial candidate screening to reference and compliance checking at the other end.
Talent Pool Search & Development/Work Resource Planning
Now is an ideal time to consider the talent that that you will need moving forward once this crisis is over. Talent pools take time to build. This time can be well spent beginning the process of developing trusted relationships with your employees of the future. RR conduct talent/resource capability audits, target, search and build talent pools to fill in-demand roles for when you are ready to employ again and that time will come!
Building Databases
As experienced resourcers, RR can build and manage a database of specialist or otherwise, voluntary or paid resources as an outsourced service
Onboarding
Outsource your onboarding process in order that you have consistency of process as well as your brand as you welcome and on-board new employees. RR can manage everything from contract generation to induction process, manage vital initial communication between employee and organisation and even the performance review process. We can tailor your onboarding process to fit your requirement
Outplacement support
We can provide comprehensive, supportive and tailor-made outplacement support as some organisations adjust their workforce.
Free Stuff
This link offers some free resources to help you make sure your people and your organisation are compliant: https://www.rusherrogers.com.au/coronavirus-and-safety-when-home-is-the-workplace/
The items available for download are:
Risk Management Guide
COVID-19 Office WHS Questionnaire
Working at Home Policy and Procedure
Work from Home Request Form
Work from Home WHS Evaluation Form
Disclaimer.
Please note that by providing these free online resources Rusher Rogers takes no responsibility whatsoever for the efficacy of your polices, risk, OH&S, communication or any other outcomes as a result of using all or part of the online resources made available by Rusher Rogers
Stay informed! Fill in the form below and receive our weekly wrap-up straight to your inbox.
[yikes-mailchimp form="1″]