As restrictions ease, the message is clear, for those who can, remain working from home until the end of the month at least. So, the pressure is on to develop, finesse and roll out a plan to safely transition the workforce from home back to the office. Many organisations are a good way down this path already, however in doing so, it has become apparent that this is not as straight-forward as first thought. Not only will self-distancing measures continue to be observed in a work environment, not all employees will want to give up working from home. As much of the commentary has indicated over the last few weeks, our workplace dynamic has changed forever. For those places of employment that can accommodate greater flexibility in the workplace, there are no excuses. That horse has bolted. So how can it be best managed? Here are just a few examples of what some organisations are beginning to roll out:
Flexible working options offered to all employees
Developing a hybrid WFH/In-office schedule that will support the need for teams to work together in-office
Maintaining a WFH:In-office ratio of between 2-3 days
Hybrid WFH:In-office schedule around hours to avoid overcrowded commute on PT ie: WFH from 8-10, commute to/from office between 10 – 4, WFH 4-6
Stagger office start and finish times
Employees to manage how/when and where they work, focus shifts from hours worked to task and outcome to meet agreed deadline.
At least 50% of employees in the office during the week impacting physical office setup to comply with social distancing protocols
Greater reliance and inclusion of communications and cloud-based technology tools to accommodate flexible working arrangements to facilitate normal day to day function
In-office a hot desk environment
Creation of more collaborative workspaces including outdoor workplaces
Events (virtual or otherwise) designed to rebuild team camaraderie with a minimum team/company-wide social/development function/activity regularly
Training across effective communication/management/tech skills/best practice WFH policy that will support flexible working options but still develop remote teams
Focus to support balancing best practice health and well being vs productivity of a blended workforce
There will be more of course as this all rolls out over the coming weeks/months. Skilling up to manage your workforce in light of this new flexible way forward has never been more now and to that end we offer the following free webinar to hone your people management skills, covering off:
Acknowledging the changes/differences in managing a remote team
Outlining the risks involved in managing a remote team
Understanding your current management style and how it needs to adapt to the new environment
Tools, Tips and Technology that will help (and some that might be use now that hinder)
Culture building remotely
The antidote to micro-management – how not to fall into the trap
This first in 'The Remote Manager' series of free webinars is scheduled for Wednesday 13th May at 11:00am. Over 40-minutes we will share best practice tools on better management of a remote team, with a focus on efficiency, productivity and delivery. Adele Last, Director at Career Lasso, experienced manager and trainer of teams will share her well researched insights on how to get the best out of your virtual team.
To Register: https://lnkd.in/g45_x5B For more information call us on 03 9682 7044.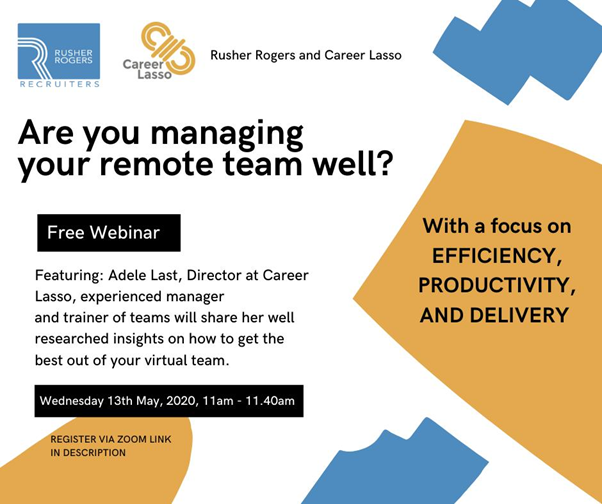 STOP PRESS: Congratulations to us!! Rusher Rogers is now officially licensed to provide on-hire temporary professionals.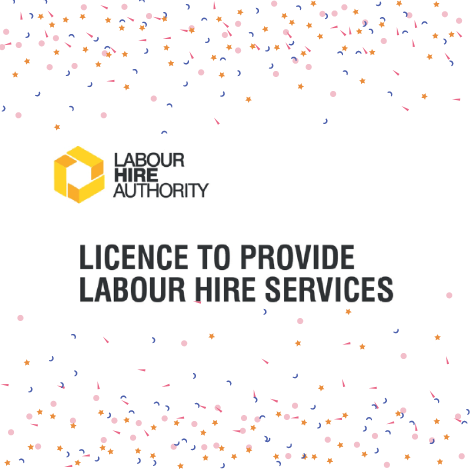 Need Practical Solutions?
A Temporary Workforce
Minimising risk will be top of mind and a temporary workforce solution is a great way to meet an immediate need while minimising long term financial commitment through an extremely volatile and uncertain period. Top of mind for many will be skilled resources in the health sector but also skilled resources in the area of HR, ER and OHS especially for those organisations without the dedicated in-house HR expertise who are trying to navigate their way through a rapidly changing work place environment. RR can assist with this as we have a stable of temp ready, many Work-From-Home ready professionals in this space
Virtual Temporary Professionals
All of a sudden, we are all working remotely. Thank God for cloud-based technology! But don't forget, RR have a virtual workforce of solid all-round Temp Professionals, all of whom can support your business virtually. Our professional temps are equipped, trained and able to work from home to ensure that you have the coverage you need without putting anyone at risk
14-day self-Isolation and no cover?
If you have any staff returning from overseas, they are obliged to self-isolate for 14 days. We have the temp professionals to cover this gap. Carefully following all recommended hygiene protocols our temp professionals will seamlessly fill that unforeseen need
Work from Home ready?
As the business world prepares their remote workforce, this may change the way we work irreversibly. All of a sudden what was a privilege, something earned, the right and trust to work from home, will become the norm for most of us during the next couple of weeks. Who knew??
We can help you coordinate getting your employees up to speed quickly with easy access online OHS assessment to ensure that your people are completely compliant and prepared to work remotely.
Unbundled services and tailored solutions
We can provide specific recruitment support services on an as needed basis. For example, everything from initial candidate screening to reference and compliance checking at the other end.
Talent Pool Search & Development/Work Resource Planning
Now is an ideal time to consider the talent that that you will need moving forward once this crisis is over. Talent pools take time to build. This time can be well spent beginning the process of developing trusted relationships with your employees of the future. RR conduct talent/resource capability audits, target, search and build talent pools to fill in-demand roles for when you are ready to employ again and that time will come!
Building Databases
As experienced resourcers, RR can build and manage a database of specialist or otherwise, voluntary or paid resources as an outsourced service
Onboarding
Outsource your onboarding process in order that you have consistency of process as well as your brand as you welcome and on-board new employees. RR can manage everything from contract generation to induction process, manage vital initial communication between employee and organisation and even the performance review process. We can tailor your onboarding process to fit your requirement
Outplacement support
We can provide comprehensive, supportive and tailor-made outplacement support as some organisations adjust their workforce.
Free Stuff
This link offers some free resources to help you make sure your people and your organisation are compliant: https://www.rusherrogers.com.au/coronavirus-and-safety-when-home-is-the-workplace/
The items available for download are:
Risk Management Guide
COVID-19 Office WHS Questionnaire
Working at Home Policy and Procedure
Work from Home Request Form
Work from Home WHS Evaluation Form
Disclaimer.
Please note that by providing these free online resources Rusher Rogers takes no responsibility whatsoever for the efficacy of your polices, risk, OH&S, communication or any other outcomes as a result of using all or part of the online resources made available by Rusher Rogers
Stay informed! Fill in the form below and receive our weekly wrap-up straight to your inbox.
[yikes-mailchimp form="1″]