RR' monthly wrap-up report on what's happening in the world of RR, our clients, our candidates and the recruitment market
Are you Match Fit?
It was a joy to clock up 21000 steps around the CBD earlier this week. Previous weeks, months, when I have made the trek into the CBD to catch up with anyone who was around, had a distinctly weekend vibe about it. Marvellous Melbourne's soul seemed MIA. You could race to Flinders Street Station along Elizabeth St without getting stuck behind yet another person concentrating on their phone rather than where they were walking. A seat on the home commute was all but guaranteed and lunch time queues to get your favourite sushi before it sold out seemed to be so 2019.
But Melbourne came back this week!!
The hustle and bustle has returned and in case you had not noticed, so has the traffic! Foot fall numbers spiked by 30% this week at Flinders St station. Peak hour PT travel has returned to standing room only and lunch time café crowds once again, spill out onto our footpaths. Could things be finally returning to normal in our fair city?
But are we match fit?
While not having to wear a mask in the office seems to have had a positive effect on many people deciding to return to the office, we may also be learning that springing straight back into our 2019 office selves may need a little more limbering up. Disregarding the enormous impact of the last 2 years spent WFH, has left its indelible mark and we may have to take some time to learn how to "office" again.
Here are a few tips on how to maintain some of that incredible productivity that many of us were able to achieve WFH and balancing that with all the incidental distractions, office chatter, coffee runs and 'catch-ups' that were second nature to our office life 2 years ago:
TED's '6 Tips to Help You Adjust' "How to Be A Better Human" series lists the following:
Be compassionate with yourself, and others
Be intentional with your time and energy and set realistic expectations
Establish a new routine (and wake up early enough to do it)
Set boundaries
When you reconnect with people, remember they have also been through a lot
Prepare to take care of your mental health.
Annie Nova at CNBC tells us how to emotionally prepare for a return to the office. With many of us hired and onboarded remotely during the pandemic, meeting our colleagues face-to-face for the first time can create some anxiety. She also shares that returning onsite to the office 5 days a week and feeling the need to be "on" all the time can be physically exhausting.
Harvard Business Review's contributor Ron Carucci shares that our adjustment to how we navigate our new normal will require enormous mental energy. He encourages us to "Stock up on patience and flexibility" and to find "moments of joy, sharing humorous and inspiring stories" will help ease us back into our former selves.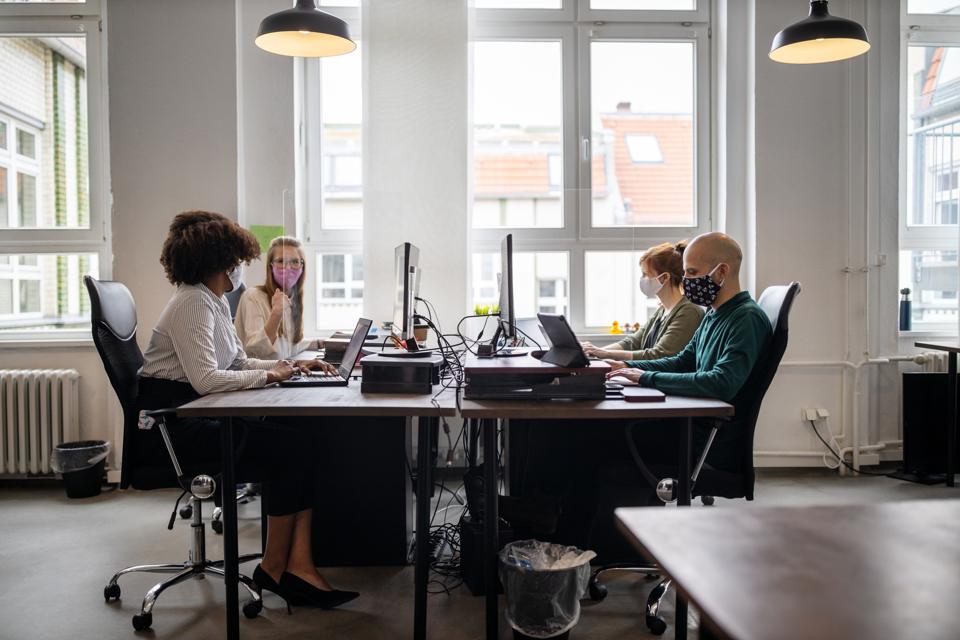 How we reconnect with our pre-2020 selves will require us to adapt (again), and it will need a little practice. Overwhelmingly, those who have begun this process are reminded of the sheer delight of connecting face-to-face with our colleagues, just catching up with their day-to-day lives and enjoying that long forgotten ad hoc conversation over the water cooler. It is so much easier to get a quick answer or response over a desk partition rather than scheduling yet another ZOOM meeting. It may be high time we all got our "office" on.