This week I thought that I would share with you some of the stories of how organisations are getting on, with getting on. We have a broad range of clients, from NFP's to healthtech to professional services and just about everything else in between. As a result, it has been quite illuminating just how far down the path most are, in adapting the way that they work.
What's everybody doing?
Well most are working from home where they can. There was one quite surprising exception to this for which nothing, and I mean nothing has changed…I know!
It's amazing how, under pressure, we all rise to the challenge. On the whole everyone seems to be adjusting and adapting their business to the new way forward. I sort of wished that I had shares in any online communication tool, as we all connect via Zoom or Microsoft Teams or Slack and the like. Connection for each and every one of us is critically important as we #stayathome and try and #keepcalmandcarryon. Humour is a great de-stressor as is taking solace in the fact that we are all in this together.
The common thread for all seems to be normalising and adapting familiar everyday routines to this new way forward. Team meetings still happen at the normal time, as everyone checks in with one another. Many have traded business casual with a hoodie and there is something emancipating about no makeup. There have been loads of funny stories about family pets wanting to get in on the action and this week with school holiday kicking in for all those with children confined to barracks, households are going to be pumping!
Leadership has also been a key element for many teams. One essential business' CEO gave a timely and greatly appreciated pep talk reminding anybody who may be anxious, that this is just a moment in time, it will pass but, in the meantime, we need to find a way, support one another and we will all get through it together. Conversely some are struggling with the whole WFH concept.  Others have embraced the new way forward and have already held all the staff activities that they would ordinarily hold including their weekly staff lunch (virtually of course) and accompanying quiz, this week's special subject: plague history. Ha you've got to love an IT company!
When transitioning teams to WFH one particular co formed 'buddy groups' which are based on where employees were geographically based. Each group has a buddy leader, whose responsibility it is to check in on the members of their group. Others run daily/weekly competitions where nominated employees take the lead on organising and managing the comp with a clear mandate to engage with, encourage and support all participants in the competition. Others have started up business focused groups using social media (fbWorkplace), for their clients to share information and support one another.
When considering support, the recruitment sectors own industry body, RCSA has been pretty amazing in providing support and information as the sector grapples with this crisis and a notable mention goes to the team at Employsure. Their Founder and MD, Ed Mallett has been broadcasting daily updates at 12 noon on their Facebook site, check it out: Here
What is the team at RR doing?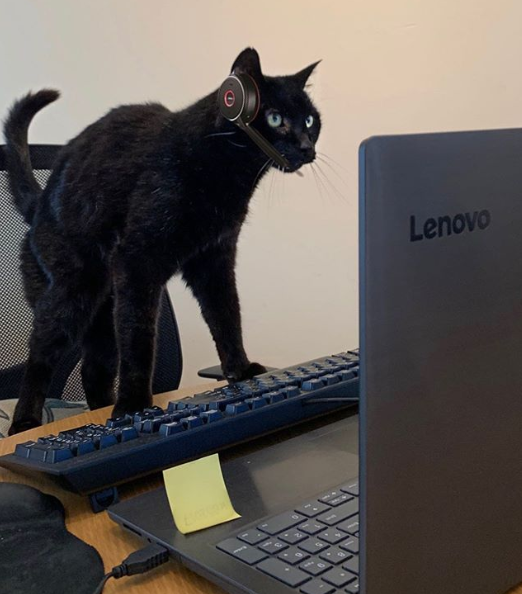 Its BAU for RR albeit all working from home. We have a core group of amazing temp professionals working closely with our clients, many of whom are also WFH! RR held a (virtual) drinks catch-up over Zoom on Friday night. Overall, it worked really well while 8 of us adjusted our conversation to accommodate lags in the tech, we were online for an hour and a half. The benefit of connecting and sharing each of our experiences of the week far outweighing any tech shortfalls and we all brought/bought our own drinks! This will be a regular event as we all agreed the value of such a connection.
All-in-all we are all adapting. Many can see that this may change the way we work forever : Click Here
There are also some bright spots according to LinkedIn's editor, Andrew Murpett: "… three industries most likely to serve as a 'bright spots' for jobseekers are IT, healthcare, and finance. Hiring activity has grown by more than 17% in software services and IT ….Similarly, it was up 12.6% in healthcare and 10.3% in finance…"
We are still working on several perm roles and we have a stable of work ready temps for any organisations looking for support. While recruitment per se may not be top of mind for a non-essential organisation, listed below are a range of recruitment related services that we also offer:
Need Practical Solutions?
A Temporary Workforce
Minimising risk will be top of mind and a temporary workforce solution is a great way to meet an immediate need while minimising long term financial commitment through an extremely volatile and uncertain period. Top of mind for many will be skilled resources in the health sector but also skilled resources in the area of HR, ER and OHS especially for those organisations without the dedicated in-house HR expertise who are trying to navigate their way through a rapidly changing work place environment. RR can assist with this as we have a stable of temp ready, many Work-From-Home ready professionals in this space
Virtual support
All of a sudden, we are all working remotely. Thank God for cloud-based technology! But don't forget, RR have a virtual workforce of solid all-round Temp Professionals, all of whom can support your business virtually. Our professional temps are equipped, trained and able to work from home to ensure that you have the coverage you need without putting anyone at risk
14-day self-Isolation and no cover?
If you have any staff returning from overseas, they are obliged to self-isolate for 14 days. We have the temp professionals to cover this gap. Carefully following all recommended hygiene protocols our temp professionals will seamlessly fill that unforeseen need
Work from Home ready?
As the business world prepares their remote workforce, this may change the way we work irreversibly. All of a sudden what was a privilege, something earned, the right and trust to work from home, will become the norm for most of us during the next couple of weeks. Who knew??
We can help you coordinate getting your employees up to speed quickly with easy access online OHS assessment to ensure that your people are completely compliant and prepared to work remotely.
Unbundled services and tailored solutions
We can provide specific recruitment support services on an as needed basis. For example, everything from initial candidate screening to reference and compliance checking at the other end.
Outplacement support
We can provide comprehensive, supportive and tailor-made outplacement support as some organisations adjust their workforce.
Talent Pool Search & Development/Work Resource Planning
Now is an ideal time to consider the talent that that you will need moving forward once this crisis is over. Talent pools take time to build. This time can be well spent beginning the process of developing trusted relationships with your employees of the future. RR conduct talent/resource capability audits, target, search and build talent pools to fill in-demand roles for when you are ready to employ again and that time will come!
In the meantime: stay safe, stay calm, stay healthy, stay informed and let's support one another.
Stay informed! Fill in the form below and receive our weekly wrap-up straight to your inbox.
[yikes-mailchimp form="1″]